Travel
Flight to Tokyo, Japan
From Europe: direct flight from Major cities(Paris, Zurich, London, Frankfurt, Helsinki, Moscow, etc...)
From US: direct flight from major cities(New York, Chicago, Los Angels, etc...)
There are two international airports in the Tokyo area, Narita Airport (NRT) and Haneda Airport (HND).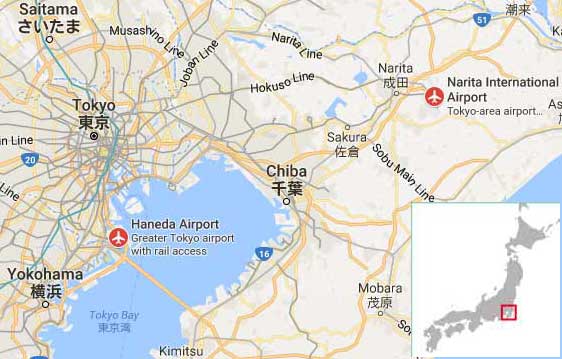 Airport to downtown Tokyo
From Haneda airport: Take the "Tokyo Monorail" to JR Hamamatsucho station (15 min). Ticket costs about ¥500.
From Narita airport: Take the "Skyliner" to Ueno station which is express train of Keisei Electric Railway. (45 min) Ticket costs about ¥2500.
For more details, visit GO TOKYO: Official Tokyo Travel Guide.
Visa Information
Participants from some countries may need a visa to enter Japan. Please refer to the link below to verify whether you would need a visa.
If you need a visa, please contact us.
Electricity
The voltage in Japan is 100 Volt. Japanese electrical plugs have two, non-polarized pins (Type A). They fit into North American outlets.

The frequency of electric current is 50 Hz in Eastern Japan (including Tokyo, Tohoku, Hokkaido) and 60 Hz in Western Japan (including Nagoya, Osaka, Kyoto, Hiroshima, Shikoku, Kyushu); however, most equipment is not affected by this frequency difference.
Currency
The Japanese currency is the yen.
FreeCurrencyRates.com
Payment methods in Japan
Japan is a cash-based society compared to most other countries though the situation has gradually been changing. Credit Card is not always accepted at small restaurants and small shops. You might want to have some cash.
How to get your Yen
ATM Withdrawal: ATMs in post offices or in 7-Eleven convenience stores allow you to withdraw cash by credit and debit cards issued outside of Japan.
Currency Exchange: Currency exchange is usually handled by banks, post offices and major hotels.
IC Card
IC cards are rechargeable cards that can be used to conveniently pay fares on public transportation and to make payments at vending machines, kiosk and shops(convenience stores) by simply touching the card on a reader for about one second.
We recommend to get Suica or Pasmo if you use public transportation.
IC cards can be purchased at ticket machines and ticket counters at the corresponding railway stations.